Among the tens of thousands of CNC machining manufacturers in the world, it is difficult to find suitable outsourcing suppliers, such as material costs, CNC machining services, company size, etc. They are all issues that need to be considered. Its Chinese CNC machining service manufacturer is sought after by many countries for its promise of low cost and fast turnaround time.
The cost and efficiency of Chinese CNC machining services cannot be imitated by many countries. Although this is a question worth considering, it is very difficult to find suitable partners among Chinese's large CNC machining manufacturers. For example: communication and national market conditions are very challenging, not to mention differences in currency, processing standards, and intellectual property laws.
In order to allow you to better find a suitable outsourcing CNC machining service manufacturer in Chinese's CNC machining services, this article sorts out related questions for you: How to choose and order CNC machining parts from Chinese?
Why Choose Chinese CNC Machining Service?
In the past, people generally thought that made in Chinese was not good, but with the development of the times, you can find traces of made in Chinese in every corner of the world. From the metal parts of small drones to the pressure shells of space submarines, CNC machining services are used in Chinese.
In the past 20 years, with the continuous increase and use of CNC machining equipment by Chinese CNC machining manufacturers, and the improvement of the overall skills and literacy of CNC machining machine operators, it has gradually become the preferred solution for global hardware parts processing companies. Whether it is equipment or professionals, Chinese's CNC machining service manufacturing efficiency is highly competitive in the world. This is also one of the factors to reduce the manufacturing cost of CNC machined parts.
In terms of equipment, Chinese CNC machining manufacturers use equipment made in Chinese or Western equipment, and can also use two types of equipment according to customer needs. Provide a list of equipment according to customer needs.
Over time, more countries and regions with low labor costs have also begun to increase. Such as Vietnam, Malaysia and other countries. However, Chinese CNC machining manufacturers can usually provide better services, because Chinese's CNC machining service industry has experienced years of development and has mature supply chains and logistics options.
But one thing to note is that finding CNC manufacturers in Chinese only makes sense in certain circumstances. For example, if you need to make a simple and heavy part, you can choose a local CNC machining manufacturer, because processing such parts will not only increase the transportation cost, but also greatly increase the ordering cost.
In addition, since the high-quality service value of CNC machining in Chinese comes from the labor cost of manpower, if manpower and labor costs are not involved, then it is meaningless to use a Chinese CNC machining manufacturer. For example, the production of batches of CNC machining parts requires fully automated production, so that labor costs are completely avoided, so the price will rise.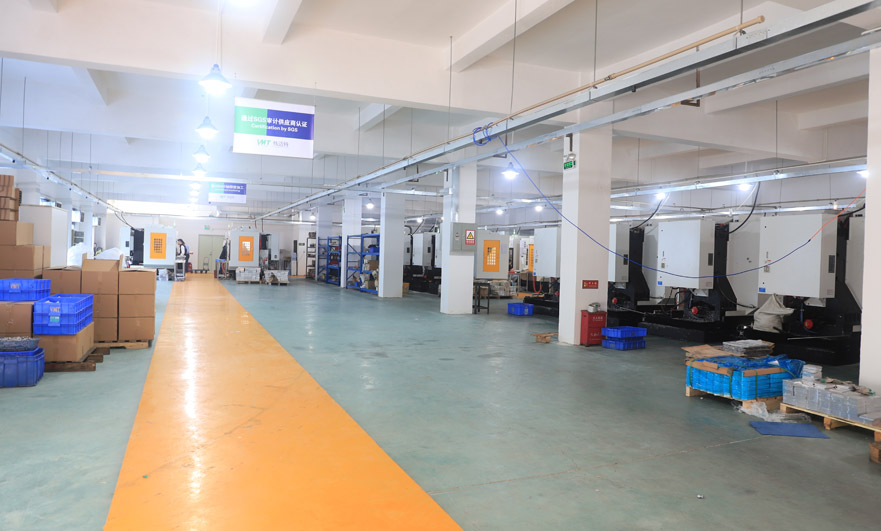 How to Choose a Suitable CNC Machining Service Partner in Chinese?
There are many CNC machining manufacturers in Chinese, how to choose a partner correctly, you need to pay attention to the following points:
Certification:
Qualification certification is a way to assess whether a company is compliant. Whether a CNC machining manufacturer has ISO certification is one of the good guidelines for parts processing.
Company Size:
This is to determine whether it can meet your processing needs.

Good reputation:
This is about whether the company has a good reputation. This is a way to understand the background and corporate culture of the partners.
Send inquiry:

This allows you to understand the company's CNC machining parts prices. If you send the RFQ to several good Chinese CNC machining manufacturers, it will be convenient for you to better control the processing costs.
Shortlisted companies:
This is to establish points of contact and stay in touch with issues until you are satisfied that the company knows how to execute your project. If they cannot give you a clear answer, then they may not be a suitable partner.
Visit the factory:
A visit to CNC machining facilities in Chinese may be the best way to assess which companies are best suited for the project. Due to the distance and time, in most cases it is not convenient to visit the factory on site. You can hire a manufacturing agent to arrange visits to multiple sites in a specific area.

What are the Things to Keep in Mind When Ordering CNC Machined Parts in Chinese?
If you have previously completed a CNC machining project in Chinese with a Chinese CNC machining manufacturer, there will not be much difference when ordering from Chinese. However, if you have never purchased, then you need to keep these things in mind.

Sign a confidentiality agreement: some CNC machining parts design drawings are unwilling to be made public and can sign a confidentiality agreement with a Chinese CNC machining manufacturer. Signing a non-disclosure agreement is a good practice to legally prevent the disclosure of intellectual property rights or the reuse of your design.
Common standard language communication: Ideally, you want to cooperate with a Chinese CNC machining service manufacturer like VMT, and you can easily communicate with you in English. Although we can communicate with you standardly, in order to avoid errors in communication, please be sure to indicate the complete technical drawings with digital files to eliminate any ambiguities and errors.
Conversion factors of exchange rate: All CNC machining companies in Chinese can accept payments in converted currencies, including U.S. dollars, Euros and currencies. If you send an international wire transfer, additional costs will be involved. If you have any doubts here, you can discuss the situation with the Chinese CNC machining manufacturer and your bank.
The determination of the transportation timeliness and method: If it is a prototype and a small batch order, the Chinese CNC manufacturer usually prefers to use air transportation and can deliver your parts in a short time.
On the contrary, for large-volume and large-volume CNC machining parts, you can choose the appropriate transportation method according to your requirements. The time of different transportation methods is also different, and it will be longer than domestic orders.
If the CNC machining parts you need are urgent, please discuss the transportation method and transportation timeliness with the Chinese CNC machining manufacturer.
In Conclusion

VMT is one of the fastest precision metal parts CNC machining manufacturers in Chinese. There are more than 40 certified materials and 15 surface treatment methods for you to choose. The consistent low price and fast delivery time ensure the quality of CNC machined parts. It is suitable for the introduction of various new products and small batch production. Contact us now for a free quote.