| | | | |
| --- | --- | --- | --- |
| 13 years | 1 day | 0 pc | 90% |
| | | | |
| Experience | Lead time | MOQ | Countries customers |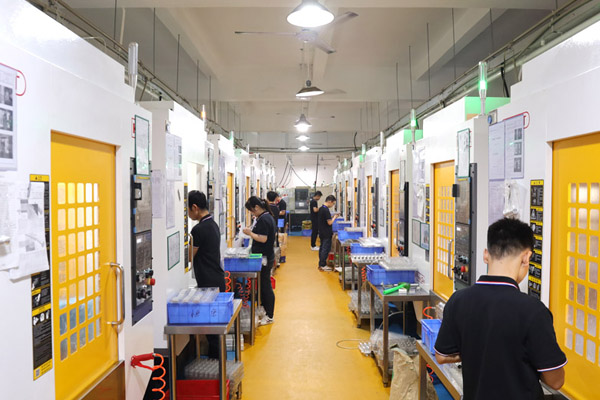 Custom CNC Coffee Machine Parts Manufacturer

VMT is a professional CNC coffee machine parts manufacturing service provider with 13 years of experience in CNC machining. We offer tailored solutions, carefully refining designs to meet your specifications and optimize functionality. With our own material library and a variety of surface treatment options to choose from, we provide competitive pricing. Our strict quality control system ensures precision and excellence in manufacturing, whether it's CNC Coffee Portable Hand Grinder Housing, Stainless Steel Coffee Tamper and Dispensers, Stainless Steel Conical Burr Grinder, Steam Lever, or any other intricate components. Simply send us your customized drawings and requirements, and we will turn your ideas into reality.

Our CNC Coffee Machine Parts Manufacturing Capabilities
With a focus on precision CNC machining for 13 years, VMT has successfully completed over 9,628 projects for our clients, encompassing various CNC coffee machine parts. We offer a one-stop service that includes material selection, CNC machining, surface treatment, and custom logo engraving, all aimed at delivering high-quality parts with zero defects as our standard. If you are in need of customized CNC coffee machine parts, feel free to reach out to VMT. We will provide you with a satisfactory response.
| | | | | | |
| --- | --- | --- | --- | --- | --- |
| | | | | | |
| | | | | | |
| | | | | | |
| | | | | | |
| 5-axis CNC machining enables the production of coffee machine parts with complex and irregular surfaces, as well as multi-directional machining requirements. The minimum precision can reach 0.01 millimeters, and it is applicable to various metal materials. We have the capability to customize and manufacture various types of CNC coffee machine parts. | | | | | VMT possesses a strong CNC machining capability, offering high-quality machining services for customized parts such as coffee machine components through CNC milling and CNC turning processes. We meet the personalized needs of our customers at highly competitive prices. Each component undergoes meticulous machining processes, ensuring strict tolerances and impeccable surface finish. |

Custom CNC Coffee Machine Parts
VMT offers a range of excellent OEM and ODM CNC machining services for custom coffee machine parts. We have the capability to manufacture CNC coffee machine accessories of various types and utilizing different technologies. Whether it's custom-made or standard components, we can accommodate your specific CNC machining needs. Here is one of our projects for custom CNC coffee machine parts, and we hope you can find your desired CNC machining requirements within it.
CNC Coffee Portable Hand Grinder Housing

For the CNC Coffee Portable Hand Grinder Housing in our CNC machining process, we use aluminum as the material with a surface treatment of black oxidation. The customer's requirement is to maintain consistent assembly patterns while allowing for variations in width dimensions. Therefore, during inspection, we employ a two-dimensional measurement to accurately assess the depth and precision of the teeth, maintaining detailed inspection records. To ensure the accuracy of the pattern, we strictly control the reference position of the inner hole, keeping it within 2μm. As a result, we achieve a final yield rate of 98% and ensure on-time delivery.

More Details>>

CNC Coffee Tamper Base and Dispensers

VMT can customize different shapes, materials, logos, and surface treatments for CNC Coffee Tamper Base and Dispensers according to the specific requirements of our customers. We offer customization options for models such as Flat, Three Angled Slopes, Ripple (Concentric), and more. Stainless steel is commonly used as the material for CNC machining and manufacturing of these components.

More Details>>

Stainless Steel Conical Burr Grinder

The Stainless Steel Conical Burr Grinder is a component in coffee machines. It requires 5-axis CNC machining for manufacturing, which may result in higher prices compared to CNC milling. However, it will perfectly meet your specific project requirements.

More Details>>

Stainless Steel Steam Lever

The application of the Steam Lever component requires durable, corrosion-resistant, and visually smooth stainless steel materials for CNC machining. VMT can also provide different models of stainless steel materials according to your needs. In the field of stainless steel CNC machining parts, VMT is confident in having advantages in terms of quality and cost, providing you with high-quality Stainless Steel Steam Lever components.

More Details>>

Why choose us for custom CNC machined coffee machine parts?
We have a professional project team dedicated to promoting your project. You don't have to worry about project suspensions due to various issues. If you still have concerns, you can conduct a factory video inspection or visit our CNC machining parts factory. Please feel free to contact us anytime. We hope to be of assistance to you.
| | | | | | | | | |
| --- | --- | --- | --- | --- | --- | --- | --- | --- |
| Custom Manufacturing | | | | | | | | Excellent Quality |
| Custom Manufacturing: With our extensive experience in CNC machining, we have a professional engineering team dedicated to designing and manufacturing CNC coffee machine parts. We offer a wide range of customization options, including dimensions, materials, surface treatments, and special functionalities. This enables us to precisely tailor the parts to your coffee machine specifications, ensuring a perfect fit and optimal functionality. We specialize in providing precision CNC machining parts that meet your specific requirements. | | | | | | | | Excellent Quality: Quality is our top priority. We employ advanced CNC machining technology and implement strict quality control measures throughout the entire manufacturing process. From material selection to final inspection, we adhere to rigorous standards to ensure that each CNC coffee machine part meets or exceeds your expectations. Our commitment to quality guarantees reliability, durability, and consistent performance. |
| | | | | | | | | |
| | | | | | | | | |
| Surface Treatment | | | | | | | | Quick Turnaround |
| Surface Treatment: We have surface treatment experts with 20 years of experience who strictly control the process and maintain comprehensive inspection records. This ensures that you receive CNC coffee machine parts with a flawless appearance. We offer 15 different surface treatment options, and you can view the surface treatment effects on our surface treatment page or contact us to select the appropriate surface treatment for your needs. | | | | | | | | Quick Turnaround: We understand the importance of timely delivery. For simple projects, we can complete the sampling within 1 day. For more complex projects, we aim to finish the sampling within 3 days. Whether you require small-scale or large-scale production, we have the capability to meet your deadlines and ensure smooth delivery of your CNC coffee machine parts. |
| | | | | | | | | |
| | | | | | | | | |
| Competitive Pricing | | | | | | | | Customer Satisfaction |
| Competitive Pricing: We believe in providing value-for-money services. Considering the level of customization, precision, and quality we offer, our pricing structure is competitive. Our goal is to establish long-term partnerships with our customers by delivering excellent products at affordable prices. | | | | | | | | Customer Satisfaction: We are committed to ensuring your satisfaction throughout the entire process. Our team provides personalized customer support to address your inquiries, guide you through customization options, and keep you informed about the progress of your order through images or videos. If your order does not meet your machining requirements, we are prepared to rework or refund as necessary. |
Choosing us for your custom CNC machining coffee machine parts means partnering with a trusted and reliable manufacturer. We combine expertise, customization, quality, precision, quick turnaround, competitive pricing, and excellent customer service to deliver CNC coffee machine parts that perfectly meet your needs. Contact us now to discuss your requirements.
See What Our Customers Say
Customer evaluation is the goal we pursue, see what our customers say to us.
We have now tested the samples and foundout that their quality was very good.So, wewould like to order abatch of 1000 pcs of eachtype for our production.l look forward to hearing
from you shortly.
Your parts were perfect, thank-you. l want to
order a production quantity soon.

Products receivedl Thanks Wendy and theVMT team. We are really happy with the endproduct.We love the few with the etched logoand wished we got them all done but that's ok.

Kari
- Engineer

Kind Regards,
Abbott-Chief Engineer
Julian
- Project Manager
Our 5 Axis CNC Machining for Industrial Applications
Custom 5 axis CNC machining manufacturing is applicable to various industries. Our business has grown to now cover 62 countries worldwide. We have done products in the electronics industry, industrial industry, automotive industry, and medical industry. If you need custom 5 axis CNC machining parts service, we have rich manufacturing experience and can turn your ideas into products.

Explore Related Resources
There are many kinds of CNC machining

processes, so it is often necessary to estimate

the time of one or more operating procedures. These are related to the CNC machining cost of the parts and the on-time delivery time. …

Hole milling is a common milling machine

processing technology, CNC thread machining is

also a common processing, this article will describe

how to reasonably perform spiral interpolation on a CNC milling machine? What is spiral CNC milling? ...

After the milling turning parts are machined, they

need to be inspected. Some companies choose random inspection or full inspection. Sampling …