When you are looking for a precision CNC machining service manufacturer to assist in a manufacturing project, you will always hear words such as "precision machining", "high precision" and "ultra-precision", but there is no substantiveness regarding the CNC machining process and processing requirements help.
We have 3-axis, 4-axis, 5-axis, turning and milling composite CNC machining machines, and VMT has 2 experienced engineers who can deal with various CNC machining and manufacturing projects. According to your needs, we can provide you with CNC turning, five-axis machining, CNC milling, DFM, EDN, OEM, ODM, and VAS services.
Our Precision CNC Machining Service Capabilities
Before understanding our precision machining service capabilities, we must first understand how we manufacture precision CNC machining parts. Before starting a new project, we will communicate with you and make a DFM analysis, so that you can have a better understanding of this project. Understand that after a series of preliminary evaluations, we will give you the most suitable precision CNC machining and manufacturing plan, and provide you with a feasible plan to reduce costs.
In the use of CNC machining machines, we will use the inspection system to investigate possible hidden dangers for you, and use high-quality machining machines, vise, fixtures, tools, etc. to achieve the results you want with strict tolerances.
In addition, we have strict quality control procedures. We divide quality control into four steps-IQC, IPQC, FQC, OQC. The sampling rate and frequency are determined by the acceptance criteria signed by our customers. Each product has different quality control standards to ensure that the product meets the requirements. Our QC department has a series of testing equipment, including CMM, high precision instrument, two-dimensional, analyzer and 3D scanner, etc., so we can ensure that all precision CNC machined parts we manufacture meet the highest standards.

What Makes Our Precision CNC Machining Service Unique?
In the past 13 years, we have provided OEM&ODM one-stop service, all aspects of precision CNC machining services, from DFM to QC with strict tolerances (±0.01mm), surface smoothness of 15Ra and 0.2mm fine holes machining.
Our Citizen swiss-type services the smallest tolerance standards in turning and milling precision CNC machining. High-speed CNC cutting and precision, to obtain the shape of precision CNC machined parts. Fully prepare for further machining.
In terms of quality services, we strictly control inspections in accordance with the ISO 9001 quality system certification standards. No matter how complicated the design and special materials, we can reach a yield rate of 99.8%.

Why do we need precision CNC machining?
High-precision CNC machining is a subtractive manufacturing process. It uses computer-controlled CNC machining equipment and CNC machining lathes to design and manufacture high-precision CNC machining parts based on human factors. The process starts with the establishment of a design plan document, which includes all the technical standards for the production of parts.
After the document is processed, the design plan staff will save it as a format compatible with CNC machinery and transform it into CNC machining lathe commands. CNC machines can process simple to complex parts with excellent precision and precision.
To put it simply, 5-axis precision CNC machining services involve programming software, moving parts or cutting tools along several axes at the same time or individually, so that more complex parts can be created. Precision CNC machining closely combines the precision of computer control with humanized design. Regardless of the scope of manufacturing operations, this process is suitable for new projects with excellent repeatability.

Our Precision CNC Machining Service Advantages
Small Tolerance
Because CNC machining machines can automatically produce processed parts and products, the impact on precision CNC machining tolerances can be minimized within the specified program.

High Machining Efficiency
The computer processing is automatic, the operation can save the traditional processing operation time, and the speed is fast. In addition, CNC machining machines can run continuously without affecting the quality, thereby improving the production capacity of precision CNC machining services and gaining efficiency and quality.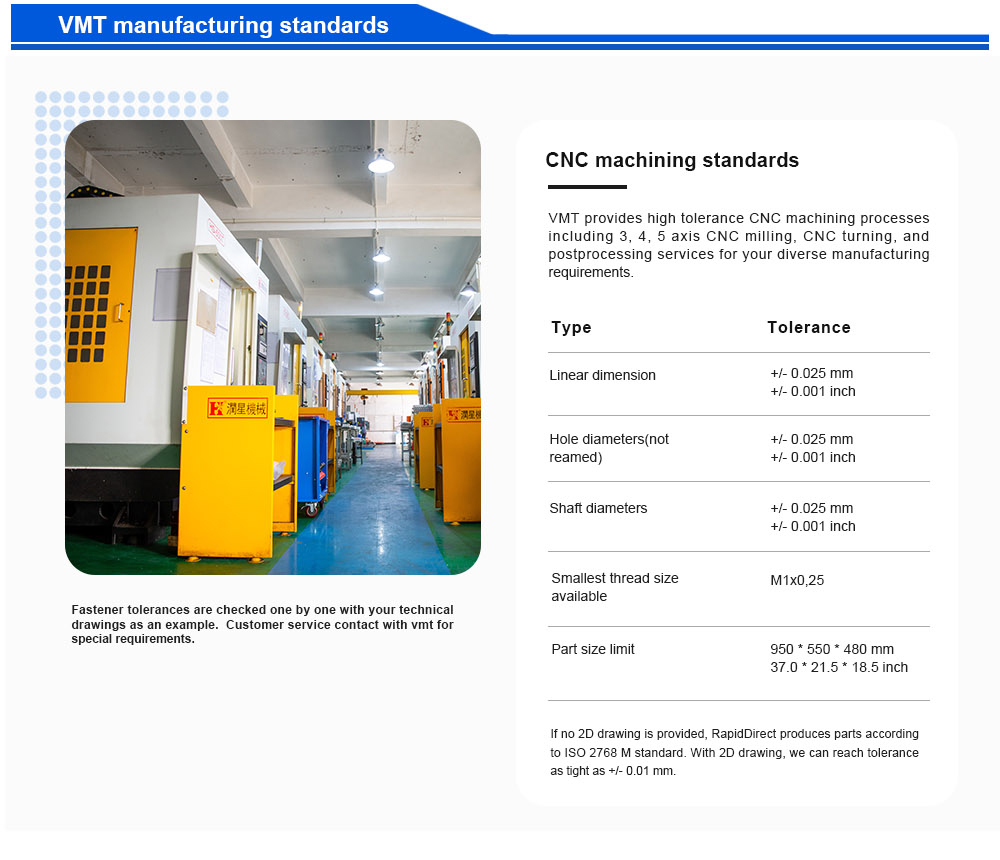 High precision
CNC machining operations generate precision CNC machined parts. Since the equipment used has not been programmed to follow specific design instructions, it can produce precision CNC machined parts in large quantities with minimal changes.
Low Cost
The advantages of precision CNC machining services: high precision, low error and fast machining speed, which means reduced material loss, labor demand and shorter turnaround time.

How to Choose the Best Precision CNC Machining Service Company?
The following are some suggestions for choosing a precision speed control processing service company:
1. Understand the partner's quality system
A factory does not value a good quality system, then it is definitely not a qualified and good precision CNC machining supplier. If you understand the partner's quality system, you can try to understand the relevant test reports and certifications.
2. Machine scale
This is the key to deciding whether to have production capacity, so as to meet your demand for high-volume precision CNC machining service production capacity.
3. Service Ability
This is the key to evaluating the quality of a company's service. When you ask, the precision CNC machining service provider can quickly answer your doubts and give you suggestions, which means they have certain precision CNC machining experience , Can provide you with quick answers to technical and cost-reducing solutions.
4. On-time Delivery
This can prove that they have enough experience and strength to deal with any budget, project delivery date and other key issues that customers may face; all these show their excellent precision CNC machining services.
Used for High-Precision CNC Machining Service Materials
CNC machining technology can be divided into two processing methods: metal and non-metal. Commonly used metal materials include the following: aluminum alloy, stainless steel, brass, copper, titanium, iron, etc.
Common Problems of Precision Machining Services
1. What is high precision?
Answer: Every part formed by the production of precision parts has a uniform quality.
2. Will there be a big error?
Answer: CNC precision machining is input by program, so automated production promotes low parts error.
3. Is it efficient?
Answer: CNC precision machining is automated production, which saves human labor interference and can efficiently complete the production of parts.
4. Is the cost high?
Answer: This is processed through the CNC system, which also means that it saves time compared to traditional processing, and reduces labor costs and defect rates.